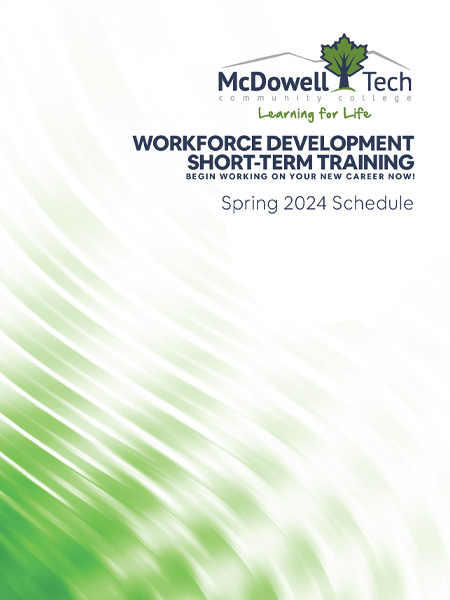 Workforce Development Short-Term Training
MTCC in the top 2% in the Nation
Workforce Development Short-Term Training
The Board of Trustees invites applications and nominations for the position of
President of McDowell Technical Community College (MTCC).
Click here…
Pardon our Dust!
Temporary Office Locations:
Academic Resource Center (ARC)
Building 19, Room 106
Student Services
Building 11, former ARC (second floor of library)
Financial Aid
Building 11, first floor (in library)
| | |
| --- | --- |
| Dec 11 | Last day of class for Fall Semester |
| Dec 12 | Final Grades due |
| Dec 14, 15, 18, 19 | Work/Annual Leave |
| Dec 20-22, 25,26 | Campus Closed (Holidays) |
| Dec 27-29 | Campus Closed (Mandatory Annual Leave) |
| Jan 2 | All FT Faculty Return |
| Jan 4 | New Student Orientation |
| Jan 8 | Classes Begin |
| Jan 10 | End of Drop/Add: 16-week/1st 8-week Classes |
| Jan 15 | Martin Luther King Jr. Day (Holiday) |
| Jan 18 | Tuition Refund Deadline/10% |
| Jan 25 | End of Drop/Add: 14-week Classes |
| Feb 9 | Last Day to Receive Non-Punitive Grade of 'W' |
| Mar 6 | End of Drop/Add: 2nd 8-week Classes |
| Mar 14-17 | MTCC Fire Rescue College |
A Better Future Starts Today, Register Now!
McDowell Technical Community College has over one hundred different degree, certification and diploma programs. Explore the featured areas of study below.
Adults, Evening, & Online
Workforce Continuing Education
College and Career Readiness
Santa came a little early this year for the McDowell Technical Community College Foundation, with 55 individuals donating $8,710 in just 24 hours to the Foundation's Endowment Fund during the college's First Annual Day of Giving held in early November. All of these donations will support student scholarships.
Read More »
On Monday, the McDowell Tech Student Government Association (SGA), along with members of the McDowell Tech faculty and staff, distributed turkeys and food boxes with enough staples to prepare a warm, nutritious Thanksgiving dinner to each of the 81 students who responded to the college's offer of assistance.
Read More »
If there's anything that gets on Santa's nerves, it must surely be the skeptical adults he runs into as he darts in and out of malls getting ready for the holiday season—folks like Ryan Garrison, McDowell Tech's Interim President, for example. After a particularly unpleasant beard-pulling incident recently, he is probably at the top of Santa's "Gets On My Last Nerve" list, and he probably shouldn't expect that Christmas bonus he's been asking for.
Two McDowell Technical Community College employees have recently been recognized at the national level for their efforts to promote achievement and success among community college students.
McDowell Technical Community College Foundation announced today the college's first annual Day of Giving and a special matching gift opportunity to kick off the Foundation's 2023-24 Endowment Campaign on November 1, 2023.